So. Yesterday after class I went down to Zhonghua my lovely and it was lovely.
Kez was talking about how nice it was to sit with so many people and feel completely at ease. No need to put your best foot forward, no need for pretence. Just be yourself.
Poly's a lot more superficial in a sense.
Lesson: bringing a dslr means not being able to camwhore as much = = haha maybe next time I'll just bring my panasonic or canon ixus.
Dance performed! Lousy as usual, but gosh Ming Min is still so flexible lol. And all the sec 1s look so tiny and cute!
Free dinner at zhonghua heehee even though the siew mai sucked.
Seeing all the people and teachers was soooooo nice. Really no other word for it. It's really like going home.
To quote Li Wei "it's so weird because before we graduated we were just existing as very different cliques in our own little world, but once we graduated we just seriously
amalgamated
into one big gang and everyone is talking to everyone else like they were good friends since a very long time."
I was never close with people like Felicia or Audrey (Tham), but yesterday was just like a gathering of old close friends. After the reception we broke up into groups to different places and I went with a great big bunch of people to CHANGI AIRPORT. Thanks ah Joseph for the suggestion. LOL it was fun but I reached home at 12 midnight. Lucky for me Dad didn't even say anything.
I want more days like this! Talking about nothing much in particular and laughing at Joseph being an idiot.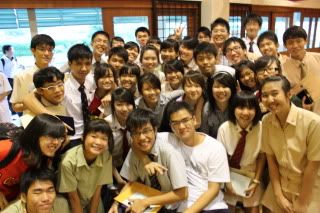 I took this! Later on Huafei would call a poor junior over to take a photo for us but it was ultimate fail cos he didn't look into the viewfinder like I told him to but just pointed the camera in the centre and took the picture. LOL.
More photos on self timer!
The group that went to Changi Airport!
Hopefully there'll be another day like this soon!