It was a shitty night with mum being all pms-y and stuff. And so I really have done this post "tomorrow". Tsk, such a night owl. And to think I used to sleep at 10pm, maybe 11+ during the holidays. Gone are those days.
And so commences the post.
I miss...
MY GIRLS ):
UChan/Claudia/Shannen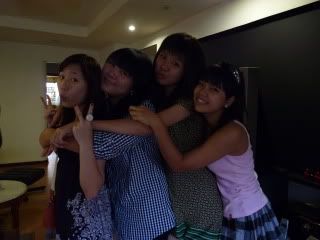 This was CNY day two at Claudia's house.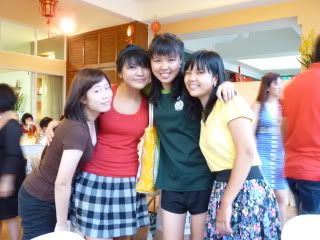 And Chit Ann's house, second last day of CNY.
My long hair. Okay not really. Sometimes I miss it. Sometimes I really like Bob. Bob is a horrible name. Let's call her Brie.
School. Zhonghua. BRIYANI. Bio lessons. English lessons. Higher Chinese lessons. Math lessons. Chingaling says I look real young and school girlish here.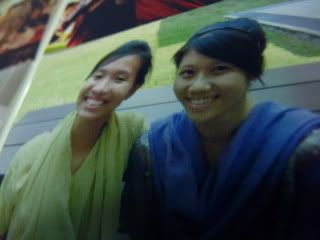 Lim Li Wei. This woman can't seem to wake up on Sundays ): I still have her present from Chingmay and I you know!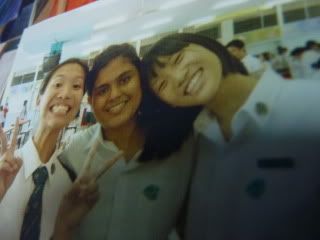 Sibyl Teo. And Sharin. I miss recess with all our nonsense.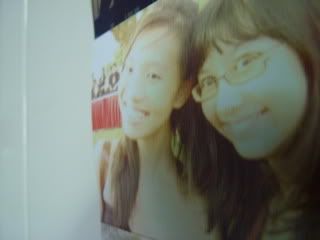 Keziah Quek. The woman has been so busy! And she's now in Bintan relaxing before school starts again for her. Tsk.
Nicole de Silva. I think I see this woman like a record of practically ONCE A YEAR. Or maybe twice.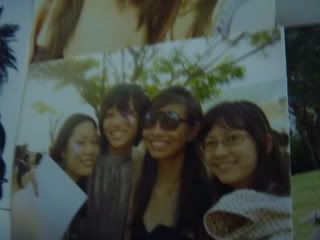 I miss fun times. When everyone was together. When we would see each other almost everyday. Us at Gaga's performance at The Dome. I miss Sibyl drawing my lightning bolt for me and me helping her colour in the purple for her lightning bolt.
I miss Starbucks with Chingaling. She always has Java Chip. And the Hornets too! Or whoever else.
I miss the kids. I saw a few of them on Sunday but I really miss being with them the entire year and going in and out of the classroom like nobody's business when I wasn't teaching, and just getting to play with the kids whenever during those two hours.
This is probably the only thing I don't miss HAHA. MY HAIR GOSH. I think this is the overgrown bob from 2008. It looks disgusting.
I also miss shopping. Which is weird. I really don't know where this came from, and now that I have money I'm afraid it'll all be spent away.
And here ends the post. More tomorrow(probably really tomorrow, it's 2.20am lol) on grossly overdue photos. (i.e. cny, maybe before cny, etc.) But also recent photos. :D
Parting photo: Chingaling and I were re-enacting a photo we once took at Serangoon Bus Interchange. I forgot to take a picture of that picture. She looks like a hamster. Anyone agree with me?